Clearing Sales Auction Software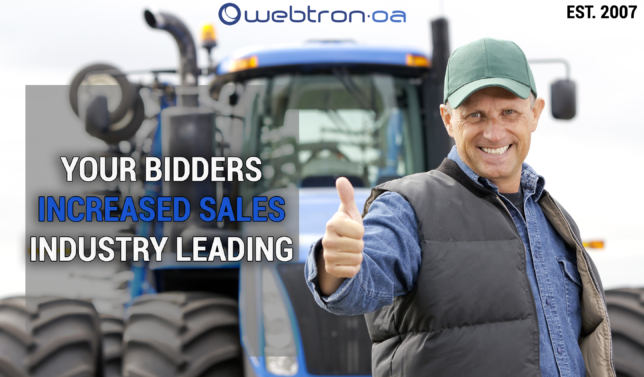 The Webtron Online Auction software platform makes farm clearing sales auctions simple for Auctioneers. And Webtron has the farm clearing sales auction software to make your next online auction a bigger success online.
And it all runs on your own website. It's simple for bidders and powerful for auctioneers.
Webtron is not a group site. It's white label auction software– Your brand, Your Bidders, and running on your website. (Your valuable bidders never need to be re-marketed to again unlike most auction software)
And we support every auction as much or as little as you like.
With Webtron, you have the choice of either a timed online or live stream/webcast auction format -or both.
⏱ Timed online auctions once set up will countdown automatically on your website.
🎥 Live Webcast auctions allow you to stream your auction event live in realtime – this can be done a number of ways. Even if you have no internet at the site! Contact us to find out more.
For each clearing sale, you can list as many lots as you like and add pictures, videos, and PDFs as you like. Talk to us today about the best option for you.
It's modern, quick, and simple.

Let's work together to make your next clearing sale a bigger success online
Contact us today for a clearing sales auction software demonstration.
Want to read on? You may also be interested in: